LSA Model Specifications
Here's some general information- When the FAA came up with the LSA category way back when, they imposed some rather severe restrictions as LSA certification requirements. The most significant restrictions are as follows: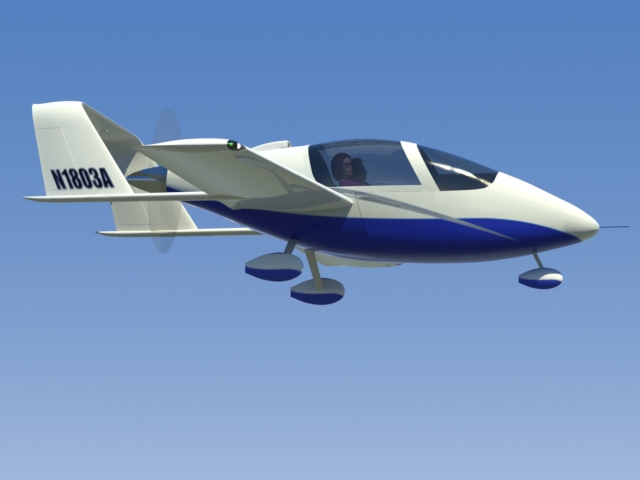 The landing gear must be fixed.
The propeller must be fixed pitch or ground adjustable.
The maximum gross weight must not exceed 1320 lbs.
There must be no more than two seats.
Using Maximum Continuous Power (MCP) for the installed engine, the maximum level flight speed must not exceed 120 knots calibrated airspeed at Sea Level.
Stall speed must not exceed 45 knots at Maximum Gross Weight.
The Flyer meets all these requirements; however, the maximum speed restriction required some innovative thinking. The drag of the Flyer airframe is quite low and, if the Maximum Continuous Power rating (81 BHP) of the installed UL 260i engine is used, the 120 knot limit at Sea Level would be exceeded. Therefore, using data received from the airspeed measuring system (pitot/static probe), the engine throttle opening is gradually automatically, mechanically reduced, beginning at a calibrated airspeed of approximately 100 knots, so that at a calibrated airspeed of 120 knots at Sea Level, the engine is producing 65 BHP which is what the airframe requires to cruise at that speed. The flip side of this coin is that the low airframe drag produces excellent fuel economy (see the performance page).
Flyer Specifications
External Dimensions
Overall length: 19.38 feet
Overall Height: 6.71 feet
Wingspan: 30.17 feet
Internal Dimensions
Cockpit width: 50 inches.
Cockpit depth (from floor): 44.10 inches
Cockpit length (pedals to rear cockpit bulkhead): 78.92 inches
Weights
Empty Weight: 651 pounds Maximum
Gross Weight: 1241 pounds
Airframe Materials
Carbon/Fiberglass/foam sandwich pre-impregnated and autoclave cured.
Powerplant:
UL 260i. see http://www.ulpower.com
Maximum power 95 BHP @ 3300 RPM
Propeller
Flight Sciences custom design: 5 foot diameter, 2 blades.
Landing Gear Main Landing gear: Laminated fiberglass struts.
Nose gear: Free swivel, Oleo damped.
Fuel
Fuel Capacity: 20 gallons carried in wing root strakes.
Baggage
Baggage Capacity: 50 pounds carried behind the seats